Webhook
Take your user data anywhere with Webhook integration. Connect with your webhook URL and get notified each time when a user signs up for the waitlist.
Click on the Plugins on the sidebar navigation to go to the webhook integration page.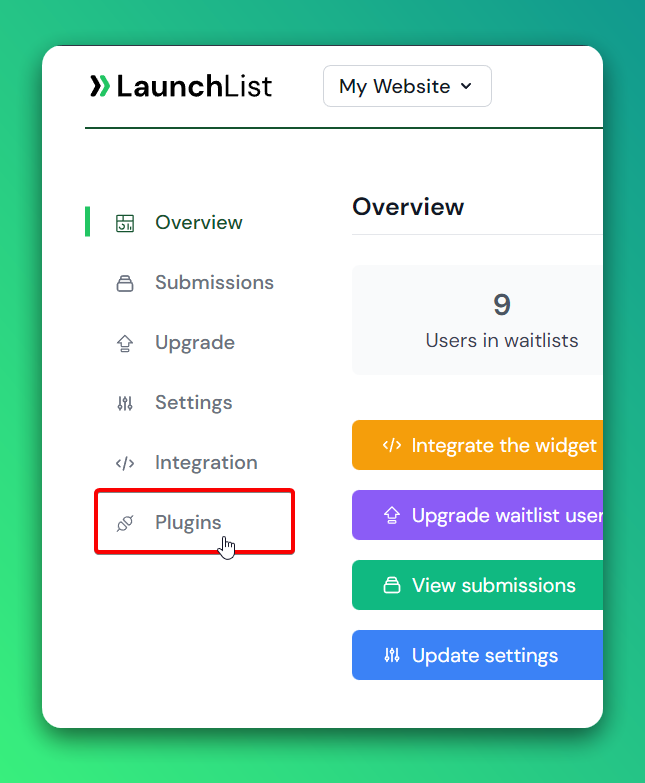 How to Integrate
We send a POST request with JSON-encoded payload to your webhook URL. Please make sure you have set up a method to receive a POST request.
GIF instruction
Step 1. Click on the Create a webhook button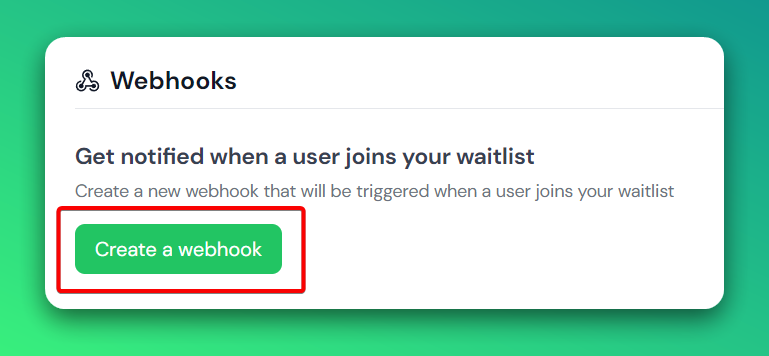 Step 2. Add a Webhook URL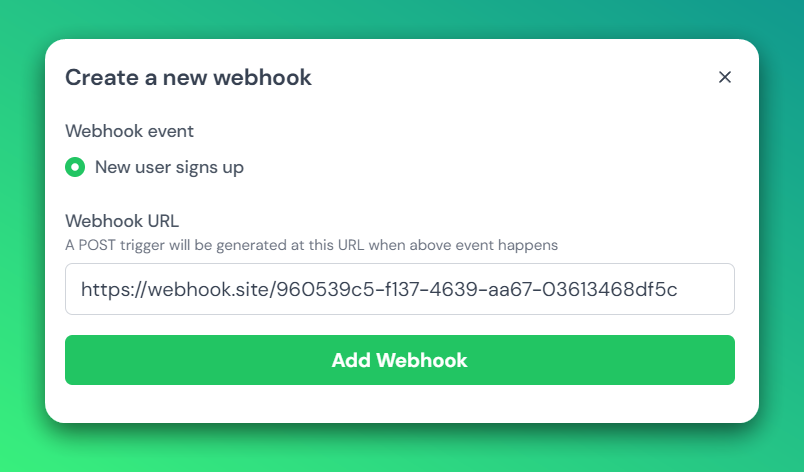 Step 3. Test the webhook integration
You can test your webhook setup by clicking on the Send a test request link. A POST request will be sent to your webhook URL.

Webhook result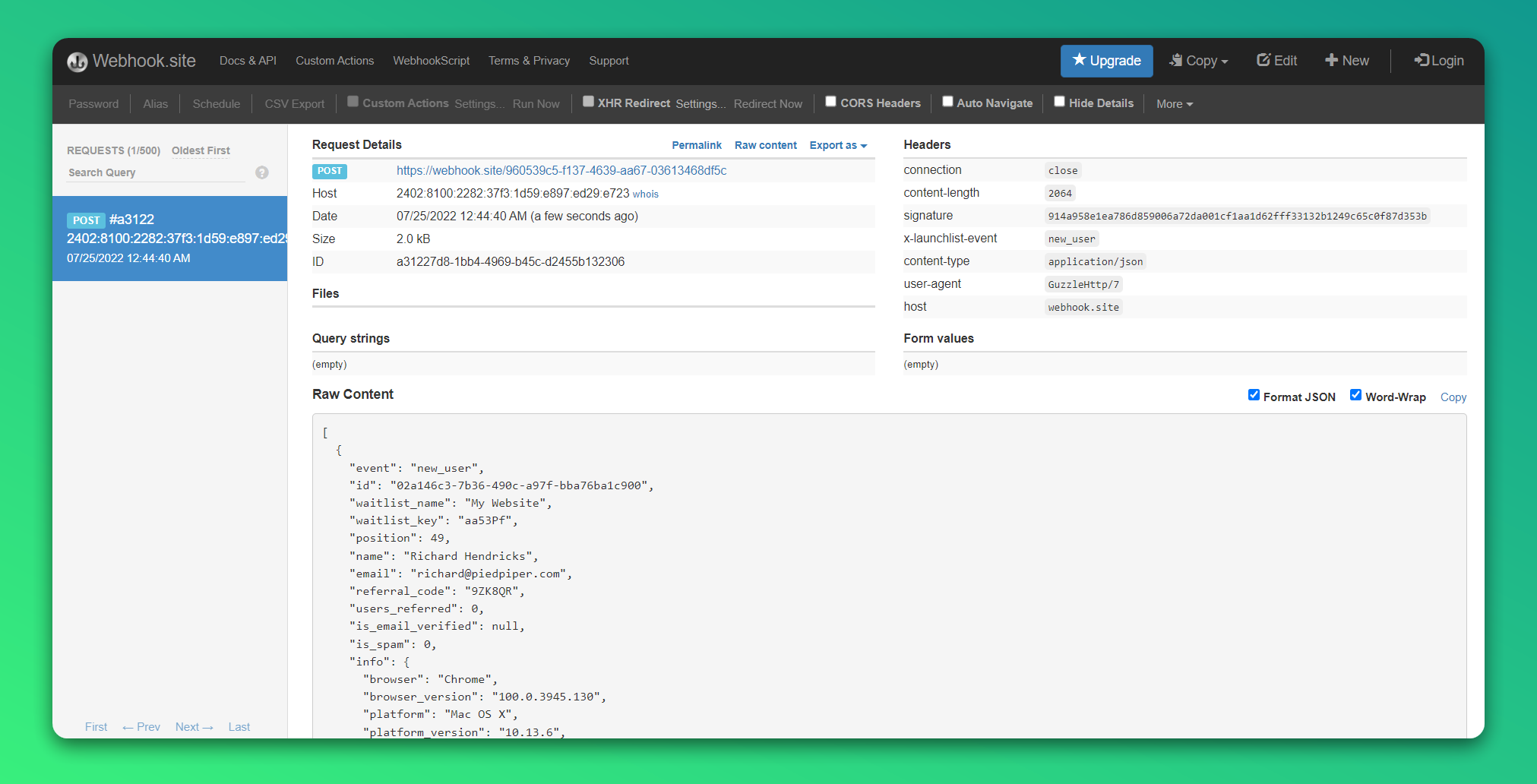 Edit/Disable webhook
To edit or temporarily disable the webhook click on the Edit link and turn off the Webhook enabled switch.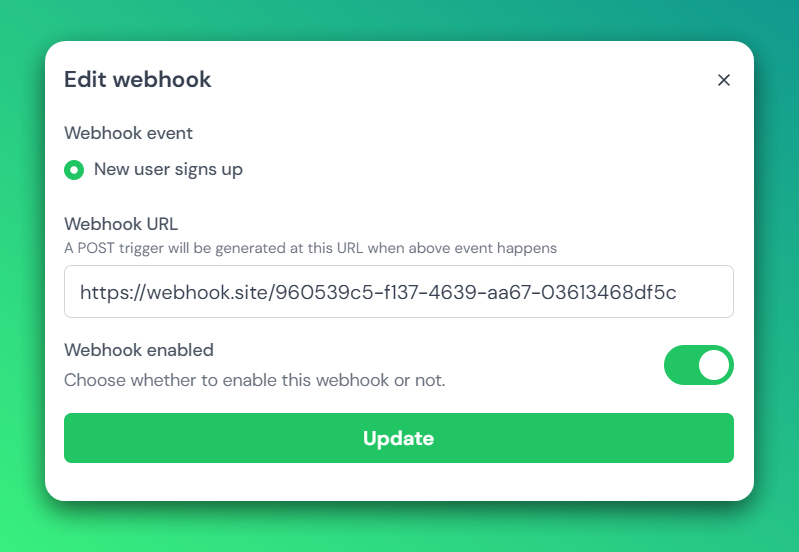 Sample payload
{
    "event": "new_user",
    "id": "02a146c3-7b36-490c-a97f-bba76ba1c900",
    "waitlist_name": "My Website",
    "waitlist_key": "aa53Pf",
    "position": 49,
    "name": "Richard Hendricks",
    "email": "[email protected]",
    "referral_code": "9ZK8QR",
    "users_referred": 0,
    "is_email_verified": null,
    "is_spam": 0,
        "info": {
        "browser": "Chrome",
        "browser_version": "100.0.3945.130",
        "platform": "Mac OS X",
        "platform_version": "10.13.6",
        "language": [
            "en-us",
            "en"
        ],
        "is_robot": false,
        "is_mobile": false,
        "is_tablet": false,
        "is_desktop": true,
        "is_bot": false,
        "ip": "162.223.73.159",
        "location": {
            "countryName": "United States",
            "countryCode": "US",
            "regionName": "California",
            "regionCode": "CA",
            "areaCode": "CA",
            "cityName": "Palo Alto",
            "zipCode": "94306",
            "isoCode": null,
            "postalCode": null,
            "latitude": "34.0544",
            "longitude": "-118.2441",
            "timezone": "America/Los_Angeles"
        },
        "analytics": {
            "utm_source": "Reddit",
            "utm_medium": "social",
            "utm_campaign": "launch",
            "utm_term": null,
            "utm_content": "posts",
            "http_referrer": "https://reddit.com/r/programming"
        }
    },
    "referred_by": {
        "id": "4465265f-b2bf-4cf1-8a48-46ccc59eb0c2",
        "waitlist_name": "My Website",
        "waitlist_key": "aa53Pf",
        "positon": 3,
        "name": "Gavin Belson",
        "email": "[email protected]",
        "referral_code": "ae4s4C",
        "users_referred": "29",
        "is_email_verified": "2022-07-17 19:14:37",
        "is_spam": 0,
        "info": {
            "browser": "Chrome",
            "browser_version": "101.0.4951.67",
            "platform": "Windows",
            "platform_version": "11.0",
            "language": [
                "en-us",
                "en"
            ],
            "is_robot": false,
            "is_mobile": false,
            "is_tablet": false,
            "is_desktop": true,
            "is_bot": false,
            "ip": "162.223.73.159",
            "location": {
                "countryName": "United States",
                "countryCode": "US",
                "regionName": "California",
                "regionCode": "CA",
                "areaCode": "CA",
                "cityName": "Palo Alto",
                "zipCode": "94306",
                "isoCode": null,
                "postalCode": null,
                "latitude": "34.0544",
                "longitude": "-118.2441",
                "timezone": "America/Los_Angeles"
            },
            "analytics": {
                "utm_source": "Twitter",
                "utm_medium": "cpc",
                "utm_campaign": "launch",
                "utm_term": null,
                "utm_content": "promoted",
                "http_referrer": "https://twitter.com"
            }
        },
        "created_at": "2022-07-17 19:14:37",
        "updated_at": "2022-07-17 19:14:37"
    },
    "created_at": "2022-07-24 19:14:37",
    "updated_at": "2022-07-24 19:14:37"
}