Send email from your own domain
Our custom email domain feature is a tool that enables you to customize your emailer to mirror your brand identity. This effectively removes any reference to LaunchList, allowing you have full control and ownership over your email dispatches. With a few simple steps, you can establish a seamless connection with your waitlist users.
Go to Your Settings
Go to your waitlist settings. Here, under the email settings section, you will find the Manage custom domain option . Click on this to open the modal for setting up your domain.

Domain Addition and Verification
Proceed to enter your domain name. We recommend using a subdomain for sending emails so as not to affect your main production domain. For instance, if your domain is example.com, you could use waitlist.example.com as your custom domain.
On entering your domain name in the popup modal, you'll see the DNS records that need to be added on your domain provider. This requires access to your DNS records. If you don't have this access, please contact your domain provider.
This is a standard procedure to authenticate your domain. After adding the DNS records, click on "Verify DNS records". This action will confirm the status of the DNS implementation and successfully verify your domain.
Setting Up a New Email Address:
Next, create a new email address. Input the name and the email address in the respective fields and select the Create button. Remember, the email address should end with the domain name that you added in the previous step.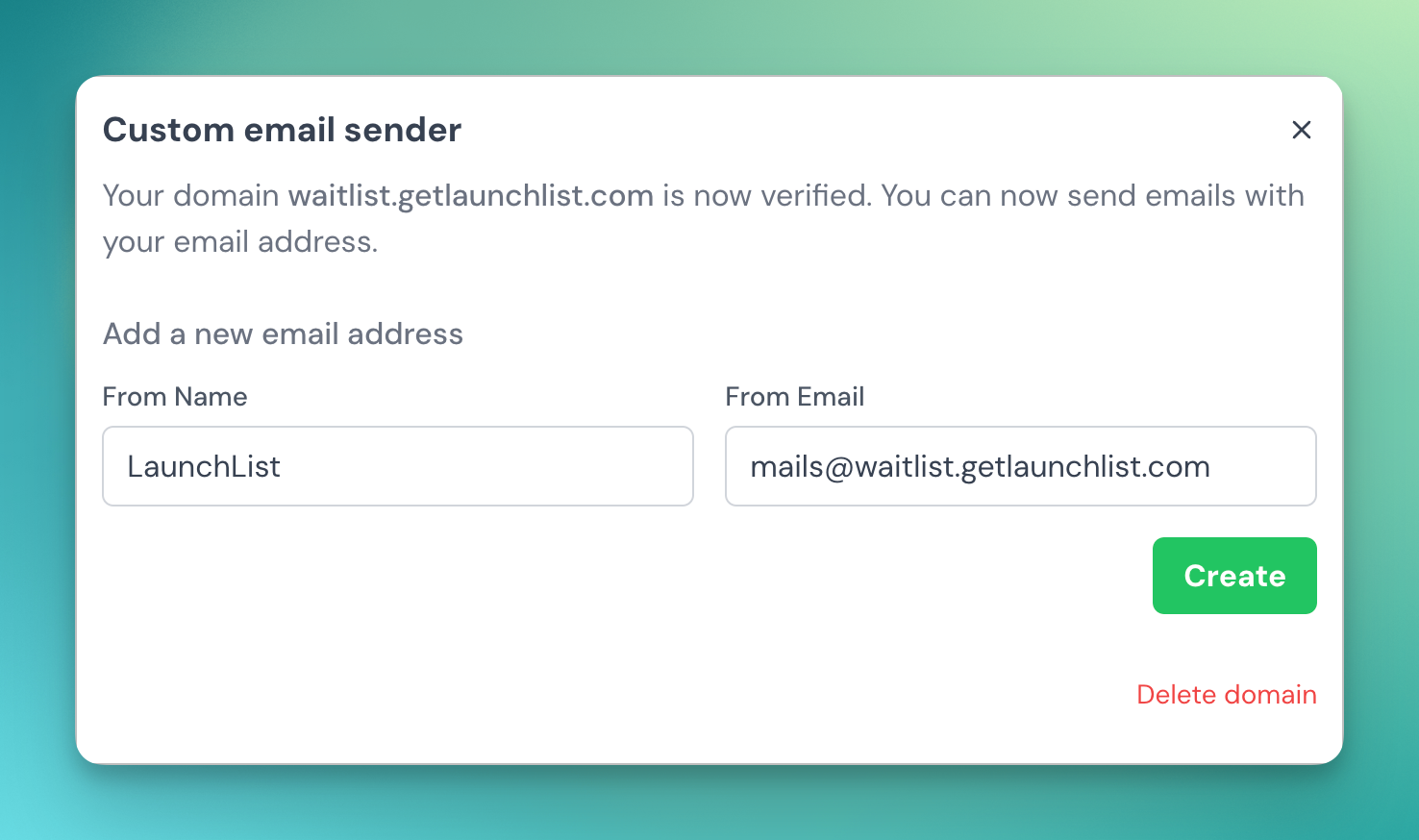 Finalizing Your Email Selection
Once you've created your new email address, close the popup window. Now, select your new email address from the dropdown list. Remember to save your changes by clicking on Save Email Settings.

Sit Back and Enjoy The Results
With the successful integration of your custom domain, all future emails will now be sent via your own website's domain. This will enhance your brand identity and establish a more personal connection with your waitlist users.
Please note, each step is integral to a successful integration. If you encounter any issues while attempting the process, feel free to refer back to these instructions or reach out to our support team for additional guidance.
FAQs
Can I use any domain name for my custom email domain?
Yes, you can use any domain name that you own. However, we recommend using a subdomain specifically for sending emails to avoid any interference with your main production domain.
Will changing my email domain affect existing emails?
No, changing your email domain will not affect existing emails. It will only apply to new emails sent after the change has been made.
Is it necessary to have access to my DNS records in order to set up a custom email domain?
Yes, having access to your DNS records is necessary to verify your domain during the custom email domain setup.
What happens if the verification of my domain fails?
If the verification fails, check to ensure the DNS records were entered correctly in your domain provider. If the problem persists, contact our support team.
Does the custom email domain feature support different email providers?
Yes, the feature is compatible with different email providers as long as you have access to modify the DNS records of your domain.
Can I set up more than one custom email domain on my account?
Typically, you can only set up one custom email domain per account. If you need to use multiple domains, consider setting up multiple accounts or contact our support team for more options.
What benefits does using a custom email domain offer?
Using a custom email domain helps enhance your brand identity. Your emails will be sent from your own domain, removing any references to LaunchList and providing a seamless and personalized communication with your waitlist users.